---
Alternate neckline and sleeve shape: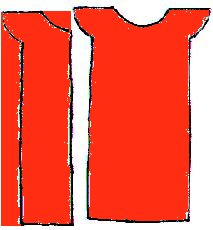 Or, using a narrower piece of fabric, leave the garment sleeveless (very popular). Or attach sleeves made from another pattern. Some popular sleeve types were: long and close-fitted, with or without a turned back cuff, long bell sleeves, or long and full and gathered into a cuff (this type was often made of sheer fabric), or short and straight, often with a turned back cuff. Some dresses, especially in the early '20s, had three-quarter or elbow-length sleeves with turned back cuffs, as was common in 1910s, but it seems that in most of the pictures I've seen, this length is usually on conservative-looking dresses, often being worn by older women.Turned back cuffs were sometimes of a contrasting color, often white, especially if the dress was of a print fabric.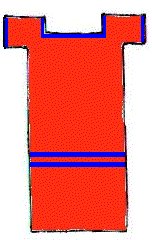 (Optional): Decorate with ribbon or bias tape. Or add a sash or belt. Just remember that anything that delineates the waistline should be below the natural waist. Make the dress sleeveless, decorate with layers of fringe, and wear with a long string of beads, wrapped around the neck two or three times or knotted, for the archetypical "flapper" look.







---
BASIC INSTRUCTIONS
---